Howdy all!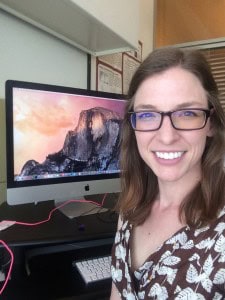 Thank you so much to the teachers and students who took the time to participate in all the live chats! Without you, there wouldn't be "I'm a Scientist."
It was fantastic to see how the questions and interactions with each classroom differed so much, reflecting the diversity across the United States.
One of the best parts about participating in this competition is getting to interact with students about science, life as a scientist, and life outside of science. We chatted about the range of possible topics, and my main complaint is that we always ran out of time! That said, one of my favorite parts was that we had the opportunity to catch up on questions before and after the chat via the "Ask" function. There were so many fun and insightful questions there.
I'm still a little surprised that I have the opportunity to write this "thank-you" letter to you all. The range of scientists and interests across the Helium Zone was so varied, and so interesting, that even until the end, I had convinced myself that another scientist would win. For everyone that participated, I say, "thank you", from myself and the four other scientists. We all appreciate your time and interactions.
I do hope you'll all continue to interact with science, and scientists, as you continue your education. Even if you don't go into science, there's such a tremendous value in maintaining that curiosity you all shared with us. Thank you.
Sincerely,
Melissa